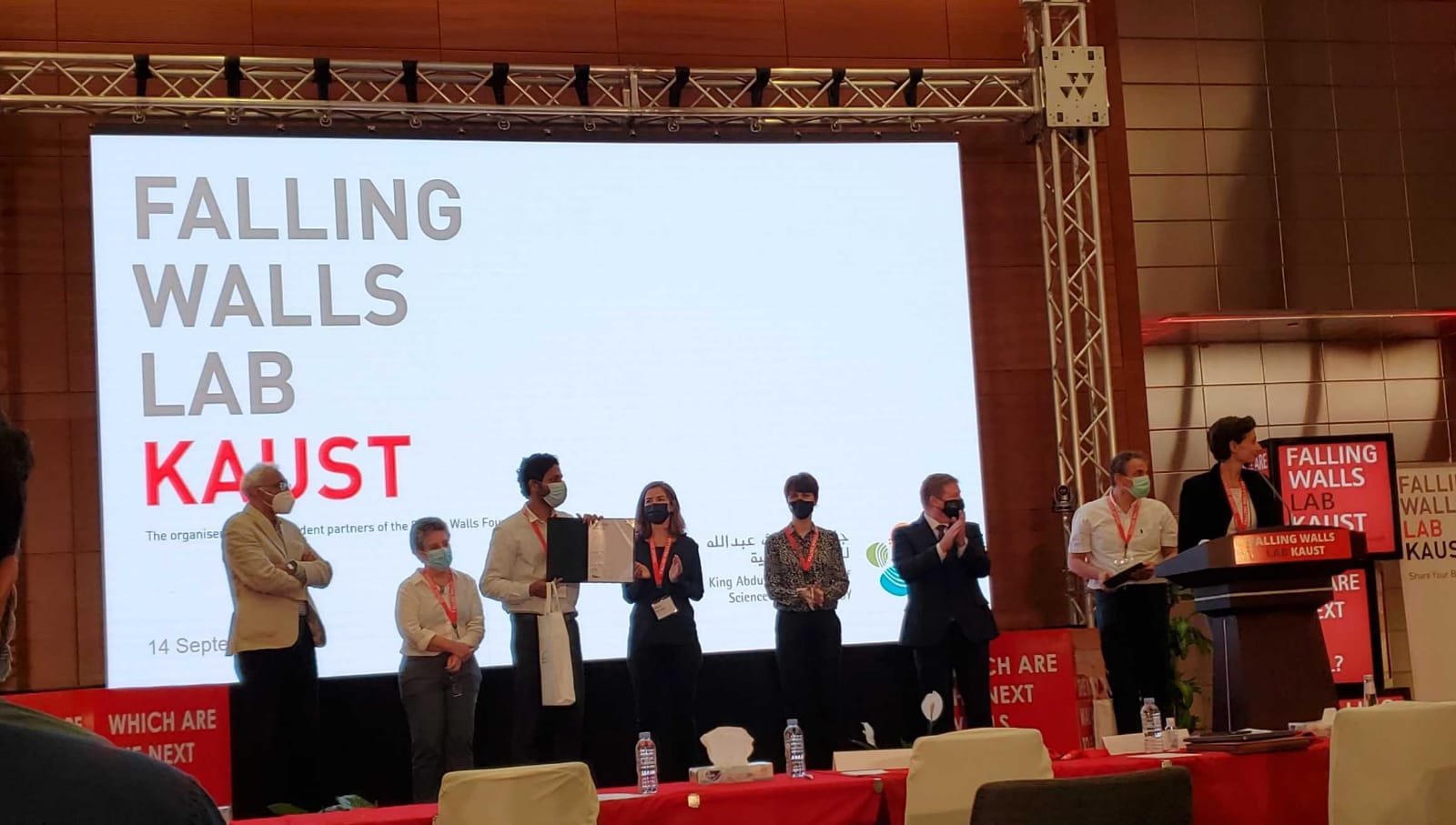 - Article by Raheena Abdurehim
Congratulations Fabiyan Angikath on your win at the 2021 Falling Walls Lab, KAUST!
Fabiyan presented his innovative idea on "Breaking the wall of Unsustainable Hydrogen production" at the event that was held on September 14, 2021.
Fabiyan is currently a Ph.D. Student under the guidance of Prof. Mani Sarathy and affiliated with the Clean Combustion Research Center, KAUST. Along with being a runner-up winner, Fabiyan will also be able to visit and present his research idea at the global Falling Walls Lab Finale in Berlin this November!
"In my talk, I introduced a technology that can produce clean H2, at a cost that is 2.5 times cheaper than the H2 from water electrolysis techniques, the current technology to produce green H2. We built a molten metal reactor in the lab, where a molten metal alloy acts as a catalyst in the chemical reaction. With this reactor, we can process methane, hydrocarbon, and very particularly a highly viscous waste material like Vaccum residue oil (VRO), by converting it to Clean H2. No CO2 is produced. 100% conversion is achieved." stated Fabiyan.
"Once the technology is adapted for commercial scale, our next objective is to tackle solid waste plastic treatment by converting into clean H2 and solid carbon by utilizing the same technology," he added.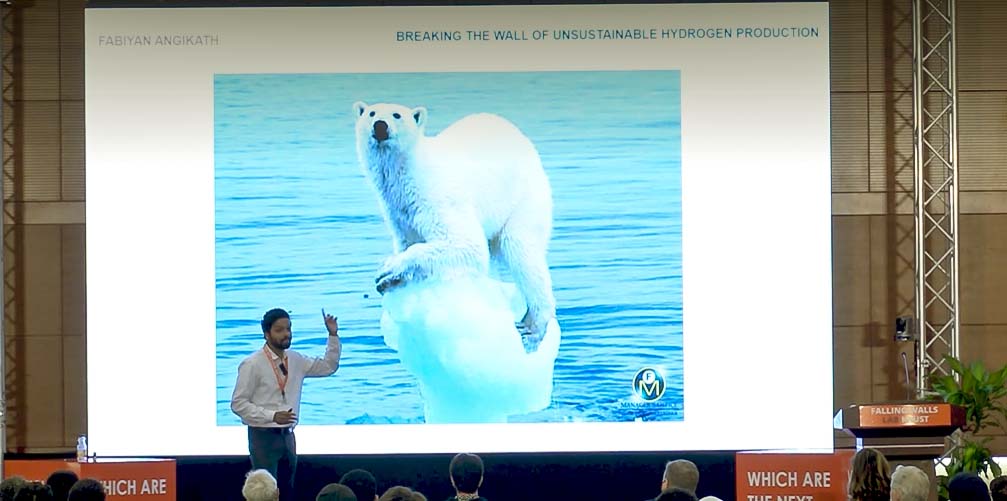 "Fabiyan is a hard-working and motivated individual. His work on CO2-free hydrogen production from low-grade and waste feedstocks has great potential for accelerating the hydrogen economy," said Prof. Mani Sarathy, his PI and Associate Director of the Clean Combustion Research Center.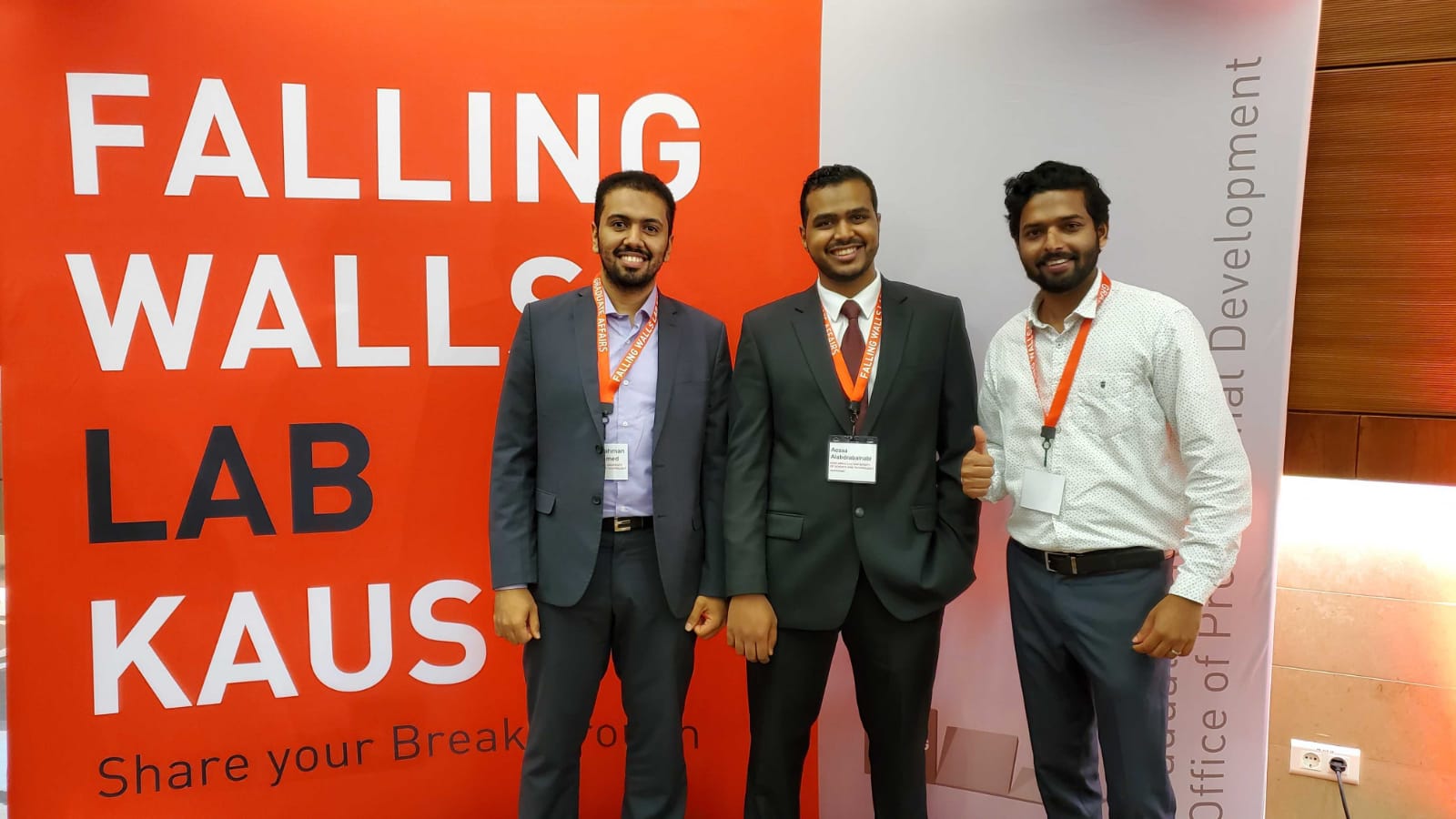 Pictures from right to left: CCRC participants at the Falling Walls, Fabiyan Angikath, Aessa Alabdrabalnabi and Abdulrahman Magdy Mohammed.
The first-place winner was Praise Eromosele, for her breaking idea on wastewater treatment- removal of metal impurities using Sawdust in Africa. Aessa Alabdrabalnabi and Abdulrahman Magdy Mohammed from the CCRC also took part in the competition.

The Clean Combustion Research Center wishes Fabiyan all the best for the finals in Berlin!