HYBRID EVENT
The talks are on:
Title: Innovation Driver in the Automotive Industry since 1948
Georg Steiner
Sales Manager, Middle East & Africa, Business Unit Instrumentation and Test Systems, AVL List GmbH
Abstract: Founded in 1948 by Prof. Hans List with the goal to develop energy efficient diesel engines for passenger cars, AVL has grown to become the largest independent company for development, testing and simulation in the automotive industry with 11.000 employees in 26 countries providing engineering services, test systems and support to OEMs, government agencies and research institutes.
We will take a look at some of the products and solutions AVL Instrumentation and Test Systems division has been developing and how they support innovation, research and development in the automotive industry. From tiny pressure sensors to huge test centers, from single measurement devices to complete, integrated test systems, testing methodologies, simulation and virtual testing. Because these tools allow engineers and scientists to drive innovation.
We will touch the following topics:
Combustion pressure sensors & combustion analysis
Flow measurement of liquid and gaseous media
Gaseous and particulate emission measurement
Test systems and facilities
DOE, simulation and virtual testing
E-Mobility and Fuel Cells
University Partnership Program
Bio: Georg Steiner is a regional business manager in AVL. He obtained the Master's degree from Technical University Graz, Austria. He joined AVL in 1999. He received the SAE outstanding paper award in 2004, and the best technical sales support for AVL combustion in 2003.
Title: Safety Systems and Best Practices
Khalil Djebbi
Safety Officer, CCRC, KAUST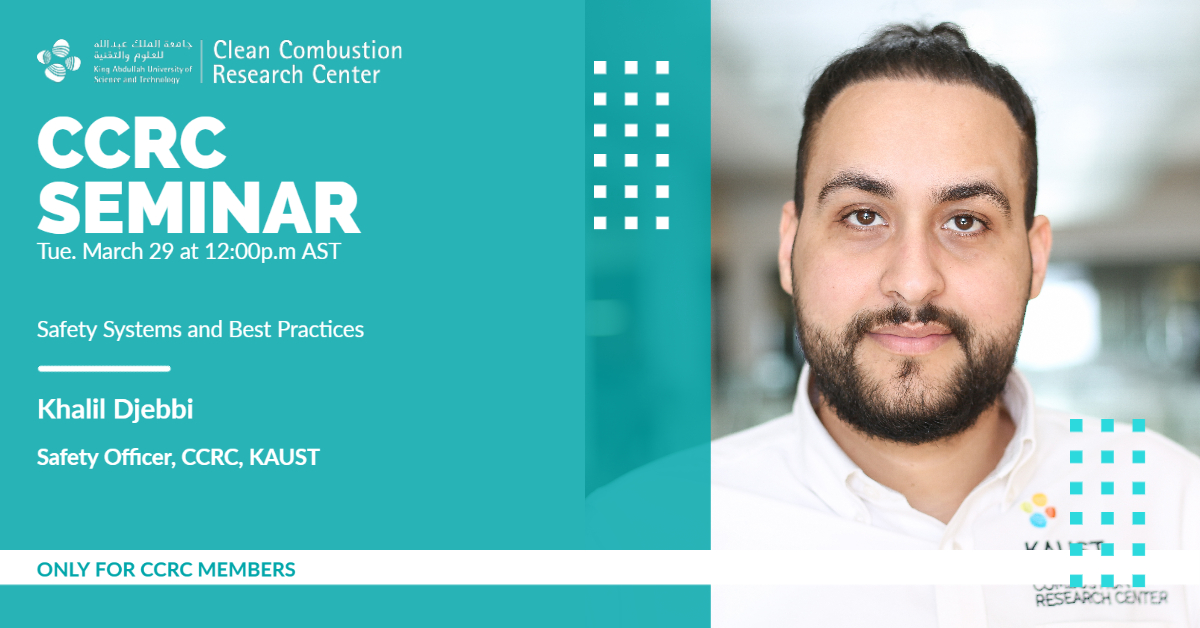 Abstract: Safety is also a science and a lot of research is done on how to deal with hazardous materials and how to manage them. Safety systems are well defined and need to be implemented. Once of the elements of a successful safety management system is sharing best practices.
Bio: Khalil Djebbi works in CCRC as a Safety officer since January 2021. He is a Mechanical Engineer graduated in 2015 from Ecole Nationale Superieure des Ingenieurs de Tunis, Tunisia. In 2016, got a Master's Degree in Process Engineering from ESSTT, Tunisia. He joined KAUST in 2017 as Research and Technical Support Engineer in professor Farooq group.
Khalil has IOSH Managing Safely Certificate, ASSP Global Management Certificate, and NEBOSH HSE Certificate in Process Management