Clean Combustion Winter School, 2022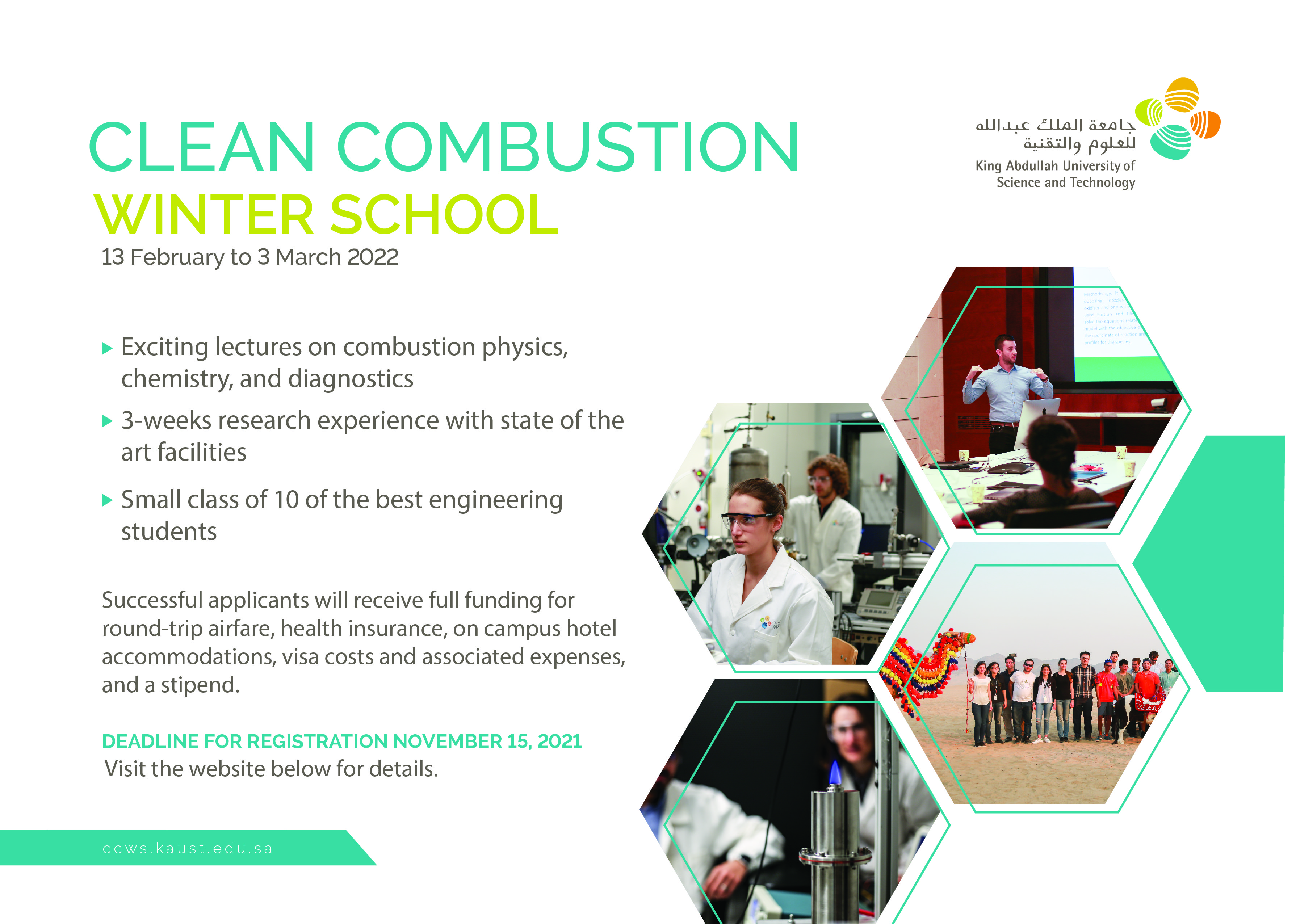 On 13 February, 2022, King Abdullah University of Science and Technology will open the doors of the Clean Combustion Research Center to the brightest engineering and chemistry students worldwide for the "Clean Combustion Winter School". Students passionate about climate change and energy sustainability will learn about the key role of combustion for a cleaner future and how to turn their passion into action.

During the three-week program, students will learn about the hottest topic in combustion research, by conducting experiments and simulations using state-of-the-art experimental and computation facilities. Daily lectures will complement the research activity providing the necessary background.
Key points
3 weeks with exciting lectures on combustion physics, chemistry, and diagnostics

Small class of 10 of the best engineering students.

Selection based on grades, motivation, reference letters, CV and proof of vaccination

Successful applicants will receive full funding for round-trip airfare, health insurance, on campus hotel accommodations, visa costs and associated expenses, and a stipen.

Who can apply?
Undergraduate senior students in Mechanical Engineering, Chemical Engineering, Applied Physics, Combustion and Plasma-related disciplinary area.
Graduate students for Master's degree in Mechanical Engineering, Chemical Engineering, Applied Physics, combustion, and plasma related disciplinary area.
Important dates
Application deadline: 30 October, 2021

Acceptance announcement: 1- 4 December, 2021

Arrival at KAUST of the invited students: 11- 12 February, 2022

FOR MORE DETAILS AND REGISTRATION VISIT CCWS.KAUST.EDU.SA