Zoom Webinar presented by Ponnya Hlaing, Ph.D. Candidate Supervised by Prof. James W. G. Turner and Prof. Hong G. Im on "Effects of Volume and Nozzle Area in Narrow-throat Spark-Ignited Pre-chamber Combustion Engine"
Date: Monday, January 31, 2022
Time: 12:30 PM - 01:00 PM (local time)
Registration link to join the seminar:
https://kaust.zoom.us/webinar/register/WN_mxGB1dg5QF6rOlreJF90aA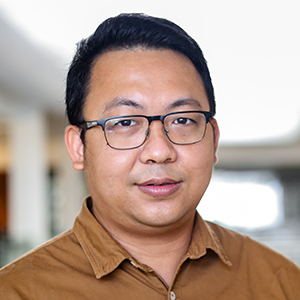 Abstract:
The pre-chamber combustion concept (PCC) concept shows promises to improve engine efficiency through lean combustion while reducing cycle-to-cycle variations and engine-out NOx formations. The KAUST narrow-throat pre-chamber design, which can readily fit into the diesel injector pocket of a heavy-duty engine, has demonstrated an increased lean limit extension compared to conventional pre-chamber designs without a distinct throat. This study examines the effect of pre-chamber volume and nozzle opening area on the PCC concept by employing five different pre-chambers with fixed throat diameter. The engine was fueled with methane, and the combustion characteristics of each pre-chamber were assessed at fuel-lean conditions. A 1-D engine simulation model was utilized to estimate the temperature and mixture composition inside the pre-chamber and main chamber, which cannot be measured experimentally. A multi-chamber heat release analysis method was applied to determine the response of the main chamber heat release process with different pre-chamber geometries. Engine-out emissions were also measured to compare the emission performance between the different pre-chambers. It was found that an increased pre-chamber volume promoted earlier ignition in the main chamber, and the throat area was a critical limiting factor in determining the engine performance for the pre-chambers with different nozzle opening areas at a given pre-chamber volume.
Bio:
Ponnya Hlaing is a current Ph.D. candidate in Mechanical Engineering at the King Abdullah University of Science and Technology, supervised by Professor James W. G. Turner and Professor Hong G. Im. He graduated with a Master of Science in Marine Engineering degree from the University of Strathclyde, Glasgow, United Kingdom. He received his Bachelor of Engineering in Marine Engineering degree from the Myanmar Maritime University, Thanlyin, Myanmar. The author has a special interest in applications of pre-chamber-initiated combustion systems in the internal combustion engine of marine and heavy-duty engines.